One of the first things that you notice while visiting anyone's home is their living room. Even the top interior designers spend a heavy chunk of their time trying to create a magical living room space for your family.
From family get-togethers to entertaining colleagues or friends, it provides a space for bonding, and for some a space for solace and peace, where they can light a scented candle, sit beneath a tall crystal lamp, with a throw keeping their lap warm and read a book they don't want to keep down.
Well, as panache as this living room dream sounds, a lot of thought, pre-planning, and effort goes into making the space awe-inspiring. From the space you have to the shape of the space, the windows and doors, a lot of such things determine the interiors and their arrangement.
Proper planning and measurement will help you save time and effort, by avoiding double buying, and apt placement will aid in making best use of available space to create an inspiring, inviting, and attractive seating space for everyone.
There are some crucial factors which we need to keep in mind while planning our living room.
1. Size Of The Room
It is of utmost importance to know the measurements of your room, so as to determine the size and type of the furniture that you would be needing. Large living rooms don't have much problem in this situation since there is a lot of area available to work around and play, but size becomes a major constraint when the area provided is small, since now all decisions will be made selective, keeping in mind the space constraint.
2. Position Of Doors
The placement of seating arrangements in a living room needs to be planned with reference to the position of doors. In an ideal living room, the paths for moving around need to be clear, around the seating and without any obstruction.
3. Position Of Windows And Lights
Lighting is very important when designing a room since you would want to conserve energy and electricity and have a naturally well-lit room. Position of windows and lights can completely change the ambience and aesthetic of your living room.
While these are crucial specifics while deciding the design of the living room, there are certain specific living room layouts which are very popular in Indian homes.
Here are some suggestions you should keep in mind while planning living room layouts:-
1. A Small Living Room
With so many people moving to cities for a better life, space has become a luxury, but that doesn't stop us from making it our own little haven.When it comes to small spaces, in all situations and not just living rooms, oversized seating is a no-no, since it occupies a lot of space and makes the room look smaller, for instance, instead of a bulky couch setting you can try switching between an armchair and a bench.
Cluttering with too many pieces of furniture will make your room look smaller and stuffy and you don't want that for sure. Minimal and sleek pieces should be preferable since it can make your room look spacious.
Using light colour tones on the wall and focusing on a single piece for a wall accent will be perfect to create an illusion of space in your living room.
2. Living Room With Stairs
Stairs in a room takes up a lot of space which can otherwise be used as an open area to add a lot of pieces. However if you do have a living room with stairs layout, a staircase can be designed with a multi-purpose storage space beneath it.
Depending on the position of the staircase, it can either be made the eye-catcher or the supporting actress to the eye-catcher. Due to its presence being so obvious, it will be smart to add it to the point of focus rather than make it stick out like a sore thumb.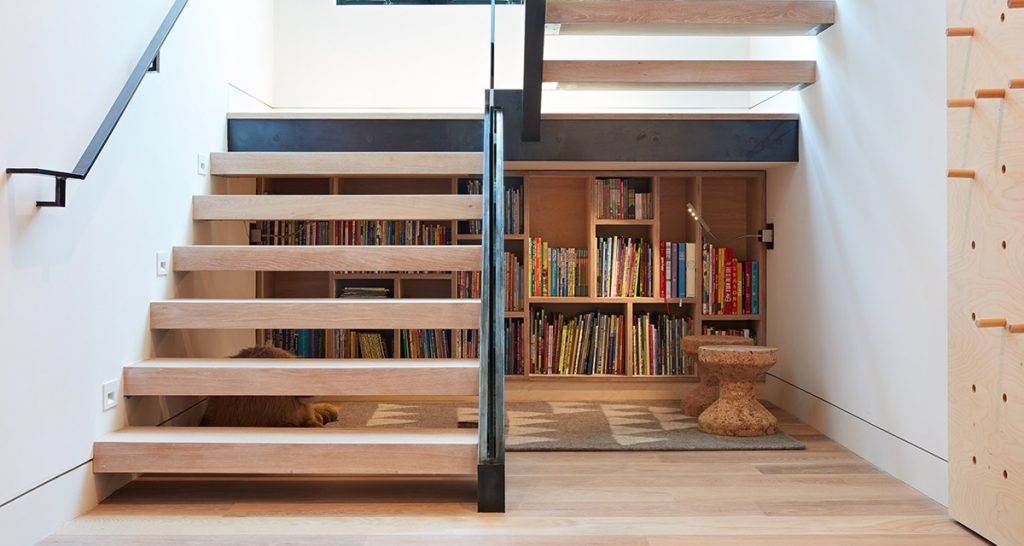 3. Rectangular Shaped Room
Rectangular shape is the most common living room layout and gives you a lot of area to experiment and work with different styles. A sectional sofa or loveseat can be a good addition in case you hold a large gathering. Ottomans or Poufs too can be utilised since tucking it under furniture can keep the area clear.
With the right size and shape of the coffee table the seating plans can be altered to fit the room and its ambience.
4. Open Living Room
Open-plan spaces are getting increasingly popular and are great for entertaining a large group comfortably.One of the major limitations one faces is that sometimes it can feel sparse or empty, and can be a guzzler for furniture and other pieces of decor or utility. To overcome this we suggest the use of contrasting colours, as wall colour combinations for the living room, to differentiate distinct spaces, to break down this large space and add diverse personality and character into different spaces of the room. Wallpaper, partitions, plants even, seating arrangements can be used to create distinct zones.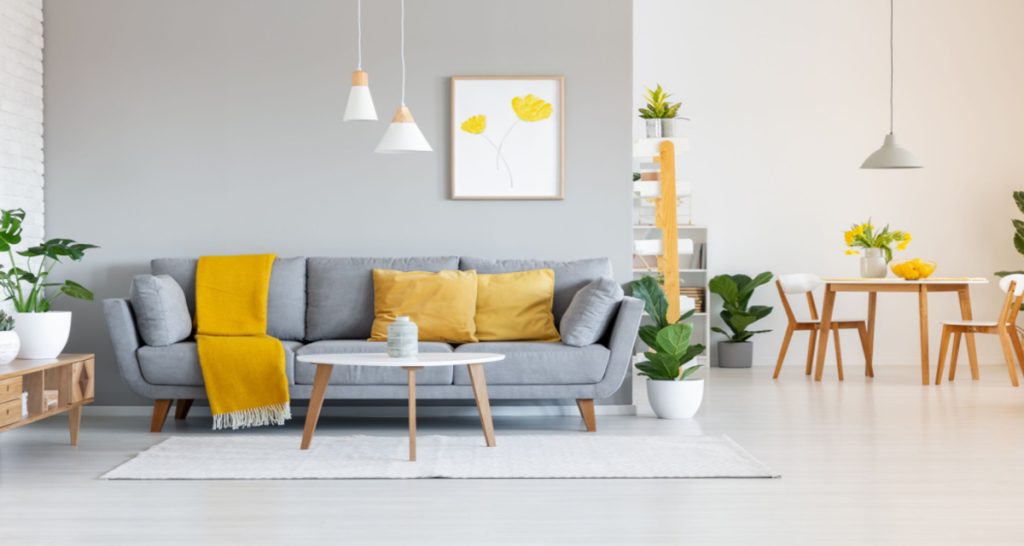 To avoid awkward living room layout ideas, it is important to visualise the look you wish to attain,since it can be a great reference and starting point for your interior and layout plan. Your home and space is a reflection of you, your mental space, place in life, and a little tiny door to yourself. We hope our tips were helpful!
Being the top interior designers in Gurgaon and Delhi NCR, we at NativeSutra understand the specific needs of our clients and try to get them to life with our incomparable design sense. For any assistance for your interiors, get in touch with us. Visit www.nativesutra.com.