Dine in Style
Food and Presentation go hand-in-hand, and that's why Gordon Ramsey or Vikas Khanna are what they are. Humans generally start their dining experience with their eyes, taking in the ambience, lighting, layout, furniture, cutlery and then the plate. The eyes process a lot of information before the taste buds get to sense anything.
A magical dining experience starts with the apt space and design which compliments your home and personality. From bold furniture, to Arabian nights wallpapered on your walls, to crystals embezzled chandeliers, whether you're hosting a dinner , or want to enjoy a quiet night with wine and jazz music, we bring you few designs which will show you how your eating space can change the entire look and feel of your home.
1. Traditional Dining Room
As Indians the concept of dining table came with colonial exposure in the late 16th century. Being the country which holds the record for the longest dining table in the world, traditional dining room designs are pleasing to a large faction of people, which have the luxury of space. With a separate room to allocate for dining, it can be spruced up with formal and theme-specific decor, so as to separate it from the other, slightly more, easy-going rooms.
Traditional Dining spaces mostly have heavily sculpted, kind-of-vintage looking tables and chairs, accompanied with an exquisite piece of tapestry or art, which also become the starter for conversations. Fine tableware crockery and statement centerpiece can be highlighted using good lighting and pendant or cove lights as well.
2. Modern Minimalist Style Dining Room
When we think of minimalism our mind unfortunately goes to the Vogue interview of Kim K, in her white as a blank canvas house, but we forget Audrey Hepburn and Anna Wintour, and their timeless looks.
With simplicity and elegance you can achieve classic and timeless results, and the same holds true for dining room design as well. Minimalism doesn't mean a bland decor and interior lacking character, but maybe a beige wall, with minimalist woody accent dining table and chairs, with snake plants and bamboo or clear glass light fixtures can explain to you the meaning of it. Lighting plays a very important role in minimalist designs for modern dining room, and can be used as a spotlight to enhance the subtle beauty of minimalist beauty, for instance use of false ceiling design over the dining area, and more such.
3. Contemporary Dining Room
A variety of designs can be incorporated for a contemporary styled dining room. Sleek, Chic and one oozing modern art, with classic black and shades of grey, a variety of contemporary styled designs can be incorporated in your dining room. Accessories such as antiques, rugs and accented lights can also do a lot to add to the freestyle nature of contemporary.
4. Rustic Dining Room
Rustic style confuses people, because of them associating with rusts and decor associated to it, whereas in truth rustic styling is very raw and unpolished in character and sometimes in design. Spindle chairs, farmhouse table and a very country-style French décor, transports you to a beautiful farmhouse setting with a Middle-Eastern mezze spread and fresh breads. The cutlery and tableware are of utmost importance while trying to design in a rustic fashion. Fresh Foliage, relaxed plates and stoneware and classic cutlery, can contribute a lot towards achieving the look. Vintage accessories such as delicate china, handmade or crochet pillows, wooden table and chairs, will accentuate the rustic features of the room.
5. Eclectic Dining Room
For the ones refusing to follow any stereotype, the dancing-to-their-own-tunes category, this style is set for you. With an advantage of versatility, you can combine different elements to decorate your home in a unique way. Shuffle up tables and chairs, drape patterned in abstract designs, some interesting throw pillows and funky wallpapers- combine your personal style for a joyful and welcoming atmosphere. With colourful textiles, antiquetics and patterned tablecloths you can design your eclectic dining room.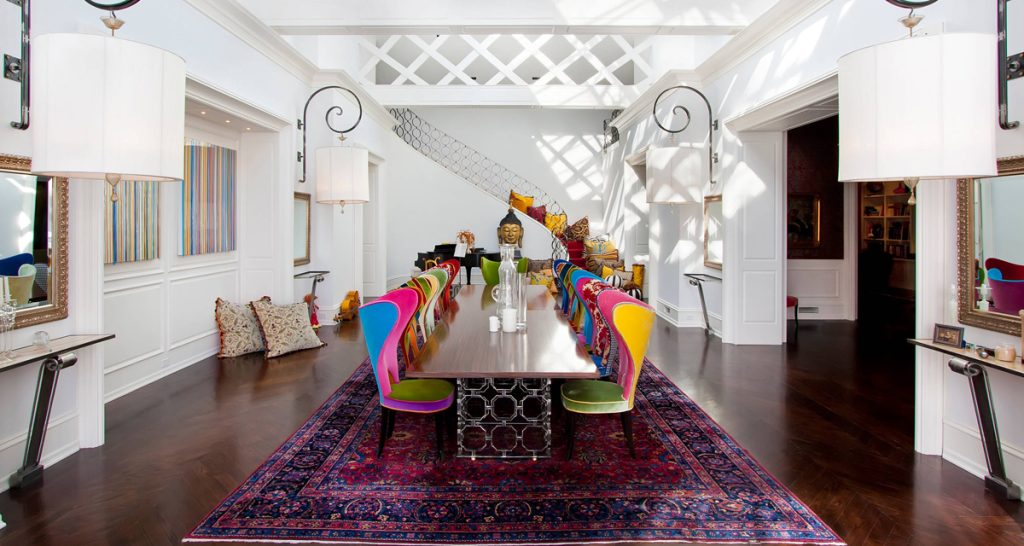 6. Bohemian Dining Room
Awakening the chic in you, Bohemian style should be your go-to style if you like working into tiny details .Using neutral colour schemes like white and grey. With rugged wooden furniture, rugs, intricate glass tables, accessories such as art pieces and candle stands, spice up your room and bring in the cosiness.
With these ideas and inspirations, we hope you are able to transform your dining room into a place fit for memorable moments. The top interior designers in Delhi & the interior designer in Gurgaon are no longer needed, for you to make your dining room the heart of your home, we hope these design inspiration will aid you in achieving the desired look. Share with us your tips and ideas and stay tuned for more such tips!