It is said, "Life takes you to the most unexpected places, but love brings you home." No matter whether you are from Italy or India, or Istanbul, home is a place that's your safe haven. So when building it, why not have a personal touch to it?
Like no two humans have the same fingerprint, no two homes are identical. Hop along as we take you on this fantastic journey of different interior design styles while discovering love, passion, and, most importantly, finding the right theme for your home.
Understanding the Design Styles
Whether you have an eye for detail or not, you will notice hundreds of visual design styles adapted across the globe. These styles primarily depend on the place, the time it was built, and, of course, the purpose.
For example, just by looking at monuments having pointed arches, bulbous domes dazzled with floral decorations, etc., you can easily recognize them by Persian Architecture.
As per industry experts, it is always advisable to explore the impact of various design styles first to have a fair idea of how they might reflect on the overall ambiance of your home. The importance of doing this exercise is :
It will help you to express your personality, taste, and preferences as the homeowner through your living spaces.
Since each style has its unique element, it will help create a specific atmosphere, significantly contributing to the visual appeal of your home.
Each style has a different impact on the functionality and comfort of your home.
Every design style has a specific psychological impact. So it is crucial to choose the styles wisely depending on the emotion you want to evoke as you walk through the space.
Classic Design Styles
The classical design style is the embodiment of elegance and timelessness. It draws inspiration from old Greek and Roman architecture, showcasing a beautiful balance of symmetry and refined intricate details. The style features classical motifs and a restrained color palette, which creates a sense of timeless beauty.
It is further classified as:
Traditional
The old traditional style embraces timeless elegance and formal aesthetics that create a refined yet sophisticated atmosphere. This design style primarily pays homage to classical elements, combining rich textures, symmetrical layouts, and intricate ornamental details.
Luxurious elements like wood, silk, and velvet are often used. At the same time, the color profile tends to remain warm and inviting, including shades of beige, reds, browns, yellows, etc. Traditional homes often feature intricate moldings, elegant furniture, and decorative yet subtle patterns that help communicate a sense of grandeur and luxury. 
Victorian
As the name suggests, this design style is renowned for showcasing ornate detailing and rich textures that create a lavish and spectacularly opulent ambiance. It has explicit characteristics like elaborate moldings, show-stopping embellishments, and intricate yet heavy patterns.
The style emphasizes its beauty by using various luxurious fabrics and materials like brocade, damask, velvet, etc. The color palette often includes rich royal blues, Emerald greens, and burgundy shades. Spaces adored with Victorian styles often have grand chandeliers, heavily carved woodwork, etc. The style stands for an era that speaks for elegance, where every small detail exudes craftsmanship and prestige.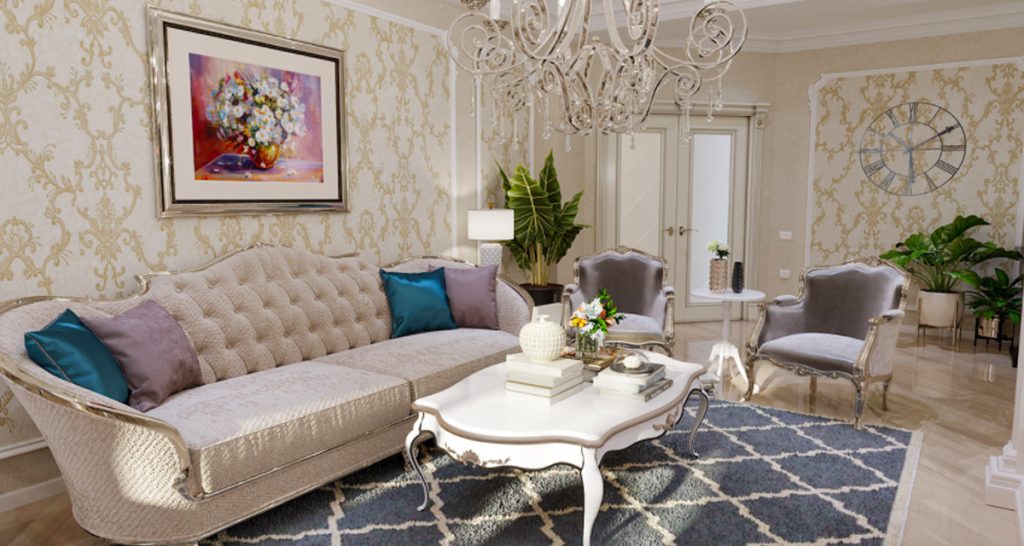 Mediterranean
For a vibrant and inviting ambiance, there is nothing better than the design style, which infuses warmth and coastal influences from the Mediterranean region. Beautiful warm terracotta tiles and exposed wooden beams are some of the characteristic features inspired by the beautiful coastal towns.
The rustic charm of the style is further enhanced by the use of materials like stone, wrought iron, and ceramic. It is a fantastic mixture of earthy tones, natural textures, and sun-drenched colors. A sense of tranquility, simplicity, and timeless beauty is something that the Mediterranean design style brings along. 
Colonial
When looking for a style that reflects historical influences with a hint of sophistication, there's no better option than the Colonial Design style. Inspired by the classic colonial times, the style is a beautiful potpourri of British, French, and Dutch colonial architecture. The style features traditional craftsmanship while symmetrical layouts and formal aesthetics tag along.
Regarding furniture and architectural details, it has to be rich dark woods like mahogany or cherry to complement the overall style. Rich damask and toile fabrics and adorned wallpapers with timeless patterns create a sense of elegance.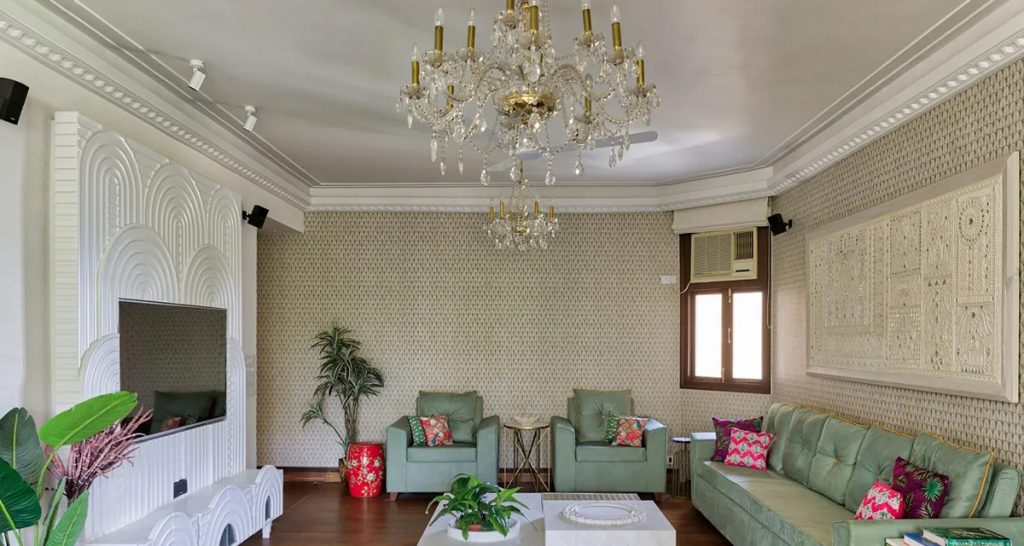 Contemporary Design Styles
This style is very different from the classical one. It is characterized by clean lines, minimalism, and, most importantly, functionality. It embraces simplicity by adopting neutral color patterns and open spaces. The style often incorporates materials and tech, which results in a sleek and uncluttered aesthetic reflecting modern times.
It is further classified as:
Modern
It is the style that believes in the philosophy "less is more," thus prioritizing functionality over practicality. Neutral color palettes of shades of whites, grays, and even blacks dominate these modern spaces. The color scheme helps in enhancing the sense of simplicity and tranquility.
Modern furniture comprises clean, geometric shapes that often incorporate glass, metals, etc. Since the style is simple, it strips away any unnecessary ornamentation and focuses strictly on the essentials. Pairing with the contemporary aesthetic and intelligent design principles, the style offers a fresh and clean look.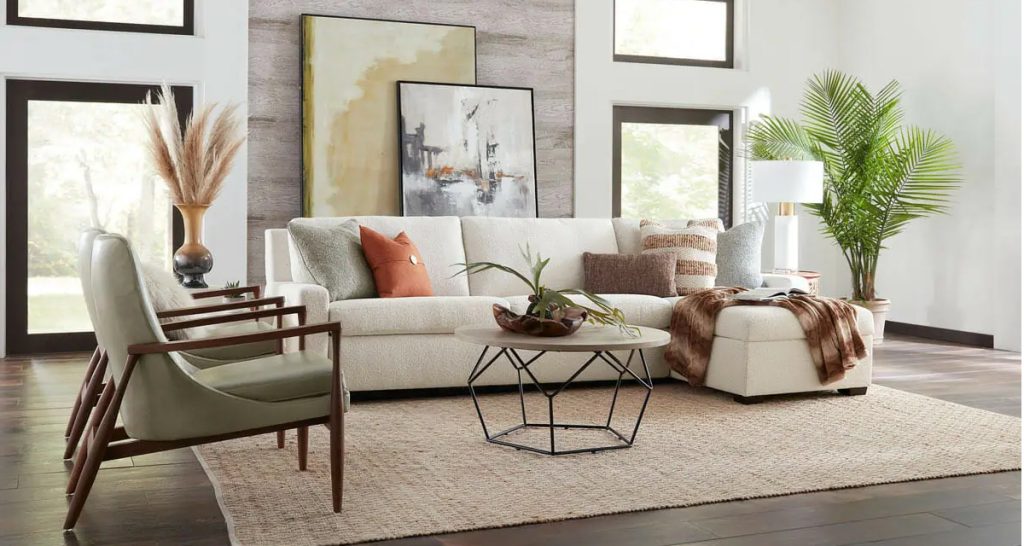 Mid-Century Modern
This design style celebrates the design of the 1950s and 1960s, offering a beautiful combination of futuristic appeal, functionality, and organic shapes. Since it is a precursor of the Modern day minimalistic design, it similarly showcases clean lines, geometric forms, and an introduction to innovation.
The design style features open floor plans and large windows to allow much natural light. It creates a seamless integration of indoor and outdoor living. Natural materials like leather and wood are often combined with molded plastics that demonstrate the unique marriage of old-school and modern-day styles.
Scandinavian 
This design style is based on the concept of hygge and thus incorporates a beautiful blend of functionality and natural materials, creating a cozy and harmonious ambiance.
For textiles, natural wood is quite a common item. As for the color palette, the style revolves around hues of whites, grays, and soft pastels, evoking a sense of serenity. The Scandinavian design spaces are characterized by minimalistic furniture, abundant natural light, and warm textiles, fostering a feeling of comfort and well-being. 
Industrial
If you find rugged and edgy ambiance appealing, the Industrial design style suits you best. It is a beautiful mix of raw materials and exposed architecture drawing its inspiration from various industrial settings. Some typical features of this design style are exposed brick walls, concrete floors, and different use of metal elements. The style incorporates utilitarian aesthetics while keeping an eye on the functionality and practicality of the items.
When creating Industrial design styles, designers often include typical features like ample open spaces, expansive windows, and significantly high ceilings, all of which contribute to a lot of natural light. Using salvaged or repurposed materials often adds a sense of history and character to the design style.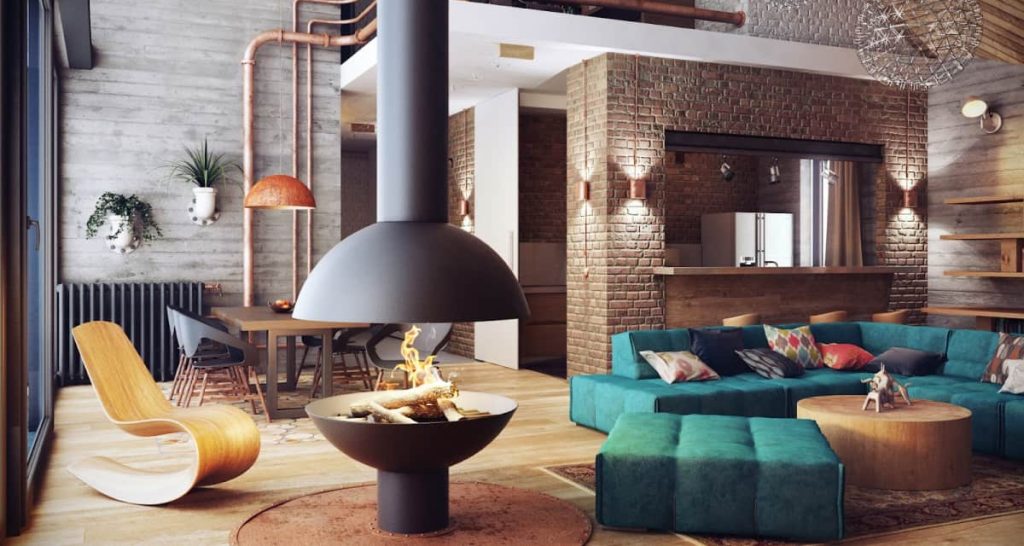 Eclectic Design Styles
This design style is unique as it does not follow any particular style but is a mix of different styles, periods, and design elements. If you want to showcase your diverse taste, nothing is better than this style, as it blends different patterns and objects from different periods, creating a unique aesthetic.
It can be further classified as:
Bohemian
This design style embraces a free-spirited and unconventional approach, creating a beautifully vibrant and eclectic ambiance. This style celebrates individuality and self-expression by combining different elements from different periods, creating a unique personality. Textiles like jute, rattan, and macarmé are often used to add a sense of earthy flavor.
This style allows you to showcase your natural collection of various art forms from different parts of the world, thus reflecting your unique and wanderlust personality.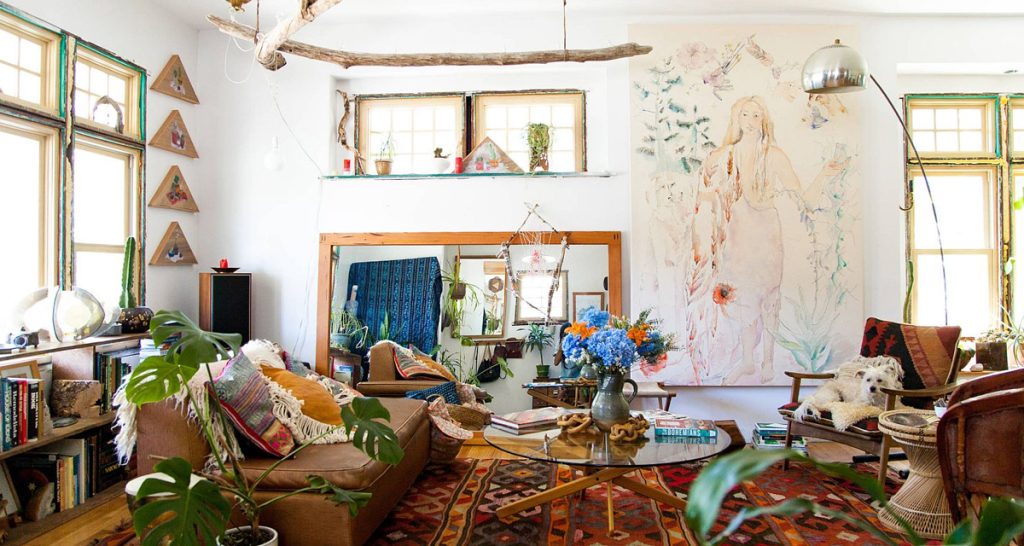 Coastal
Although the Mediterranean design style might seem similar to the coastal style, some significant differences exist. This style channels a relaxed vibe often found on the beachside, using nautical elements that create a peaceful and airy ambiance. Shades of whites, blues, and sandy neutrals characterize the coastal style.
It includes textures by incorporating materials like wicker, rattan, and linen that reflect the coastal vibe. Usage of nautical elements like rope, shells, and striped pattern adds a hint of maritime charm to the entire space. 
Farmhouse
This design style, as the name suggests, combines this nostalgic, rustic charm while implementing contemporary comforts. It creates an overall cozy yet inviting ambiance.
Some characteristic features of this style include exposed wood beams, vintage-inspired wooden furniture, etc. The color palette is inclined towards earthy and neutral tones, thus creating a warm and welcoming environment. To create a sense of spaciousness, farmhouse design styles often have large open spaces that allow a beautiful gust of natural light every single day. It is a style that welcomes modern amenities while retaining and appreciating the charm of the classic farmhouse elements.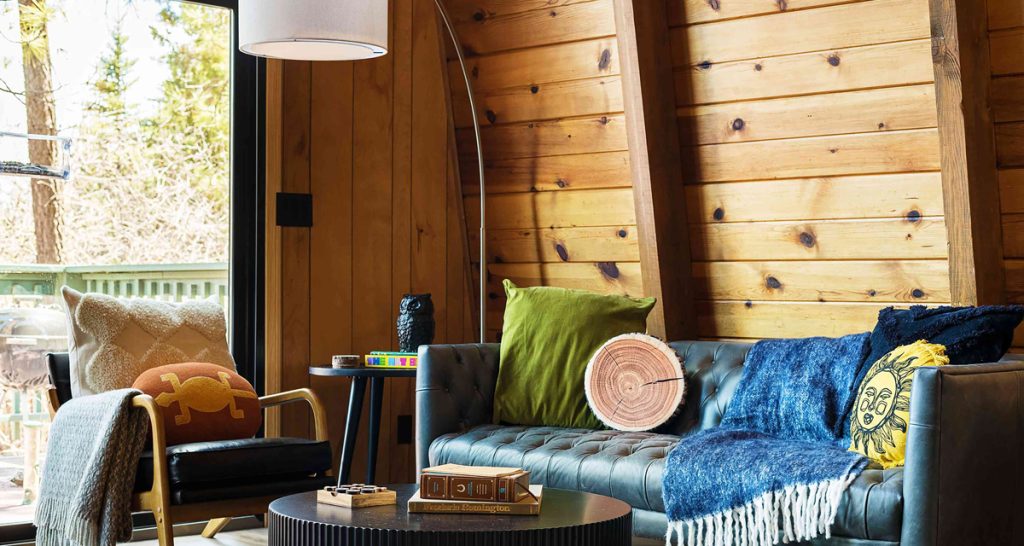 Global
It is a style that incorporates elements from various cultures and regions, thus creating a diverse yet eclectic atmosphere. It celebrates the beautiful blend of rich global aesthetics, blending colors, textiles, and art pieces from different parts of the globe.
These spaces are often characterized by vibrant color palettes, handcrafted items from different regions, and intricate patterns replicated from different parts of the world. The combination of all these elements creates an environment that is visually stimulating yet culturally rich. 
Transitional Design Style 
It is a type of design style that blends traditional and contemporary elements while creating a beautifully harmonious and balanced ambiance. A transitional Design Style is a combination of clean lines, neutral colors, and simplicity. It is a style that showcases the transition between traditional and modern designs.
It can be further classified as:
Contemporary Transitional
It strikes a delicate balance between modern and traditional elements creating a harmonious and sophisticated ambiance. It creates a seamless blend by combining clean lines and sleek finishes with the timeless elegance of traditional aesthetics.
Contemporary Design style embraces neutral color palettes along with texture and subtle patterns while appealing visually. Since this is a blend between the old and new, the furniture and other elements are made of old-school wood as well as contemporary metal and glass items. 
Rustic Transitional
It stands for a style that merges the charming elements of rustic design with the clean lines and sophistication of contemporary aesthetics. It creates a very warm and inviting ambiance. This style is dominated by the usage of materials like wood, stone, and metals, showcasing their inherent textures and beautiful imperfections.
Exposed beams, reclaimed woods, and vintage accents often add a sense of authenticity and warmth. Combining rustic elements with contemporary furniture and fixtures creates a unique blend of old-world charm and modernism. 
Industrial Transitional
It's a style that showcases the transition between the raw and edgy beauty of industrial design with the sleekness of modern styles. The use of exposed brick, concrete, and metal accents stands for evoking the industrial feel, while minimalistic furniture and neutral color palettes feature the modern elements.
This design style strikes a balance between ruggedness and sophistication, combining industrial materials with refined finishes for a cohesive and visually striking look.
Tips For Incorporating Design Styles
When choosing or incorporating design styles in your home, there are three crucial things that you need to consider:
Assess your personal preferences and lifestyle needs: It refers to identifying and determining what design styles resonate and aligns with your lifestyle and life choices.
Combine different design styles: Don't step back from experimenting. Try to combine different styles that create a unique and personalized look.
Work with color palettes: Choose the color profile carefully. It is because the color scheme is a crucial element for any style, and it can make or break the whole ambiance you're opting for. 
Conclusion
Every art form or design style has its own origin, its own story, and, most importantly, its own personality. So when you are choosing a design style for your home, it is essential that it resonates with your personality and preference. Because you must remember when a person walks into your home, they are not looking at beams, pillars, or walls. They're looking at a reflection of you conveyed through your color, decor, and design choices.