"Colour is a power which directly influences the soul."
– Wassily Kandinsky
The kitchen is no longer considered as a dull and monotonous space of the house. Modular kitchens are becoming the norm where function and aesthetics blend in the most sophisticated way, a space that also reflects your personal interests and lifestyle.
Your kitchen deserves to be appreciated for its aesthetic appeal and innovative design. Colour combinations have a considerable effect on the overall aesthetics and theme of a kitchen.
Therefore, deciding on the perfect colour scheme can be a tough choice to make. Here are some of the colour combination pro tips that can help you make the right decision:
All White Colour
Go for all-white if you want an uncomplicated kitchen yet a stunning one. This classic colour can give any kitchen the impression of being larger than it already is. This color combination is perfect for those who want a sleek and minimalist aesthetic.
The only drawback of having a white modular kitchen is that it needs to be regularly cleaned and maintained.
Blue & White Colour Combination
Are any ocean lovers out there?
Your coastal-inspired kitchen can instantly offer the freshness of the ocean and beachy vibes. The colour of the sky and the sea symbolises vastness and is indeed calming. Blue kitchens add a laidback lifestyle to any kitchen.
Blue remains one of the most loved colours for the heart and center of the home.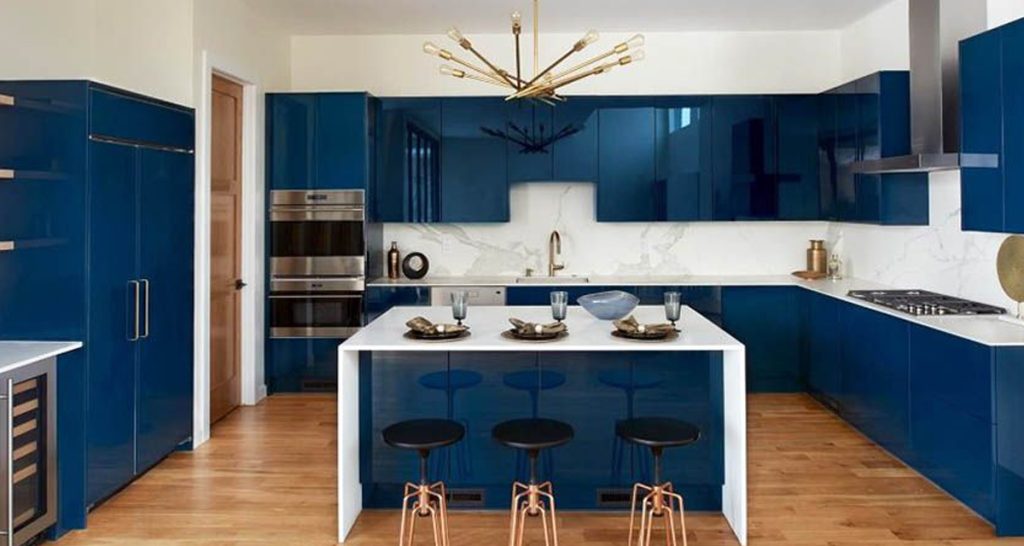 Yellow and White/Grey Colour Combination
Yellow is always the colour that brings so much positivity and warmth to your kitchen. They are best complemented with whites or grey.
Its bright, cheerful shade, reminiscent of sunshine, can light up your kitchen. Yellow kitchens are instantly uplifting and will make you feel happy and calm.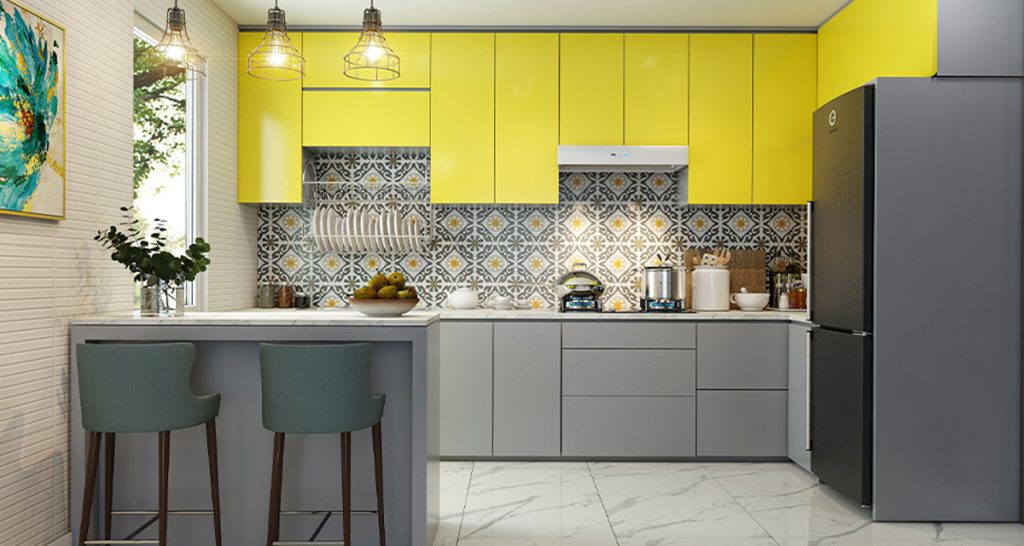 Brown and White Colour Combination
Would you prefer traditional and vintage decor in your kitchen?
Your taste will perfectly suit the traditionally neutral colour scheme of white and brown. Without being overly dramatic, it provides your kitchen with a magnificent and elegant touch.
This color combination is perfect for those who want a more traditional/rustic or warm feel.
Black and White Colour Combination
Black and white are two neutral hues that give your kitchen a yin and yang aesthetic that adds to its visual appeal.
An ideal design for those trying to find a balance between modern minimalism, bold expressiveness, and a dash of whimsy. It is elegant, rich, and classy.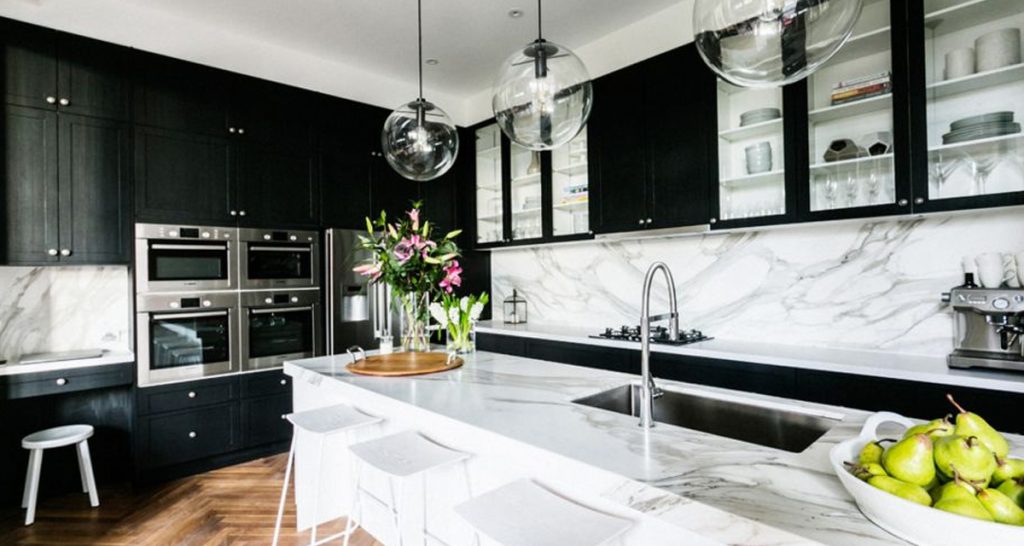 Red, Grey, and Cream Colour Combination
A bright cherry red gives your kitchen the much-needed boost of energy, which will undoubtedly increase your desire and creativity while cooking delicious food.
The enormous popularity of red in all shades can be beautifully complemented with cream & gray cabinets.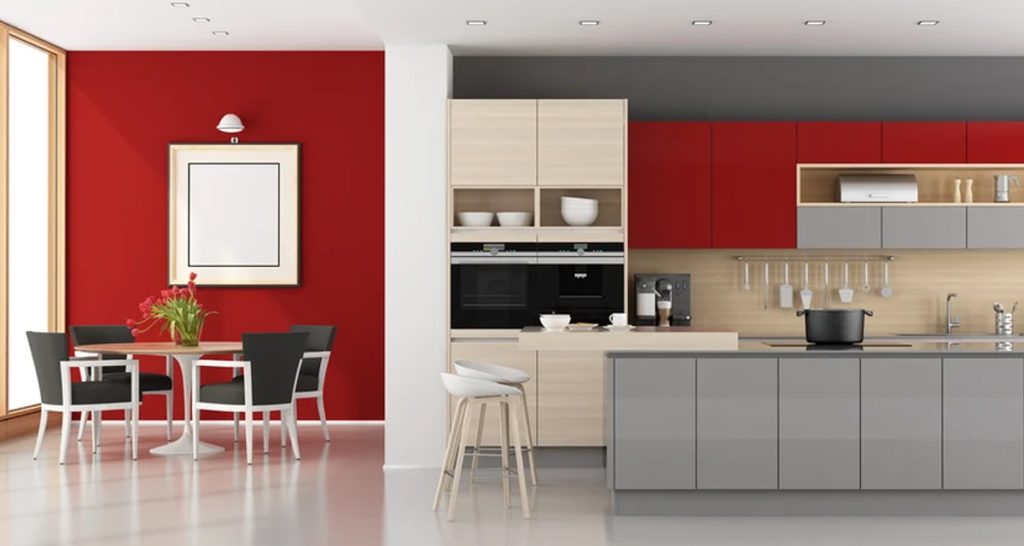 Conclusion
The kitchen is the heart of the home, providing an ideal place for light-hearted family conversations over scrumptious meals, love, and laughter.
Overall, the colour scheme you choose should reflect your taste and style and help to create the desired atmosphere in your kitchen.
Choosing a lighter colour combination for the kitchen gives the impression of more space. This is because light colours can successfully reflect light, providing a more open, spacious, and breezy appearance.
On the other hand, choosing darker colour combinations absorb light and tends to make your kitchen look more compact.
Whether you're looking for a complete remodel or want to update your existing kitchen space, we at Native Sutra are amongst the best interior designers in Delhi-NCR and Gurgaon who specialise in creating stunning and functional kitchens that suit your lifestyle.
Our team of designers will work with you closely on your modern kitchen design ideas and help bring your vision to life.
Looking for fresh and exciting kitchen design ideas? Connect with us and we will have a lot to share.
Schedule a consultation with us today, and let us assist you in creating the kitchen of your dreams!