The bedroom is one of the most important rooms in a house or apartment. It's where we spend most of our time sleeping and getting ready for the day ahead. That's why choosing the right furniture for your bedroom is essential, and one of the most important pieces of furniture is the bedroom wardrobe.
Your bedroom wardrobe is not just a place to store your clothes; it's also an essential part of your bedroom decor. A well-chosen wardrobe can make your bedroom feel more spacious and organised, while a poorly chosen one can make it feel cramped and cluttered. Here are some key things to keep in mind when choosing your bedroom wardrobe and your bedroom wardrobe design.
Size and Capacity
The first thing to consider when choosing a wardrobe is the size and capacity that you need. Considering the number of clothes you have and the type of clothes you wear, bedroom wardrobe storage is of utmost importance. If you have a lot of long dresses or coats, you will need a wardrobe with a high hanging rail. If you have a lot of shoes or accessories, you might want a wardrobe with extra shelves or drawers. The size of your bedroom is also a factor to consider. Make sure you choose a wardrobe which has spacious bedroom wardrobe storage that fits comfortably in your space without feeling too cramped.
Style and Design
Styling and designing your bedroom wardrobe has never been more fun than today. There are multiple design philosophies available in the market that you can choose from.
Contemporary design consists of minimalistic elements and is simple and uncluttered. You could also go for a more vintage look recreating the best design from your preferred era. Other design choices include international and monochromatic (single colour with minimal decor).
A popular trend amongst home designers these days is to go for full-height wardrobes which are 8-10 ft tall! These wardrobes utilise the maximum vertical space available (from floor to the ceiling) giving you the most storage space out of any other type of wardrobe.
Talking about trends, the industry is witnessing a positive change: the shift towards eco-friendly styling and design choices. Interiors combining design with sustainability are marvellous to see.
So, while choosing your wardrobe, search for environment-friendly and sustainable materials. Engineered materials are the best option here. These include HDHMR, HDF, Glass and Mirror shutter, etc.
Material and Quality
Material is the most IMPORTANT aspect of your wardrobe. If you want your wardrobe to be long-lasting and durable, safe from accidental liquid spillages, then you must make your material choices carefully.
There are many options available on the market. Naturally, many buyers suffer from choice-anxiety. A condition where the plethora of choices handicaps a person from making any choice at all.
Not to worry, here is a list of material types that you should look out for BWP plywood, HDHMR, Mirror and Glass for shutters and Lacquered Glass. Economical options include MDF and Particleboard. However, their quality is quite questionable.
Hardware in the wardrobe is another crucial area for the buyer to decide. There are many good hardware brands available on the market today. While Hafele is the holy grail here, other brands include Kessebohmer, Dorset, Hettich, and Kich.
It is an open secret that material and hardware considerations have to be taken hand-in-hand with your budget. Few interior designing firms understand this. That's why Native Sutra offers you the best material and hardware options that fits your budget and can give maximum value for your money.
Smart Storage Solutions
No matter what type of wardrobe you eventually decide to go for, you must know smart storage solutions to maximise the storage space in your closet. This is especially important if your wardrobe has limited space in the bedroom. Storage solutions can make a cluttered wardrobe into a joyous space.
Small write-up and images of accessories below:
Basket Pull-Out
ELegant way to organise clothes and other items.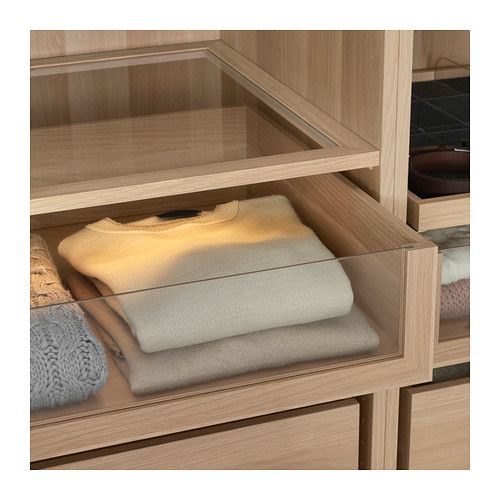 Built-In Iron Board Drawer
Ingenious and an efficient way of storing an iron board.
Tie And Belt Pull-Out
With this smart pull-out arrangement, say goodbye to losing your ties and belts when you need them the most.
Trousers Pull-Out
Easily separate your trousers from other items of clothing.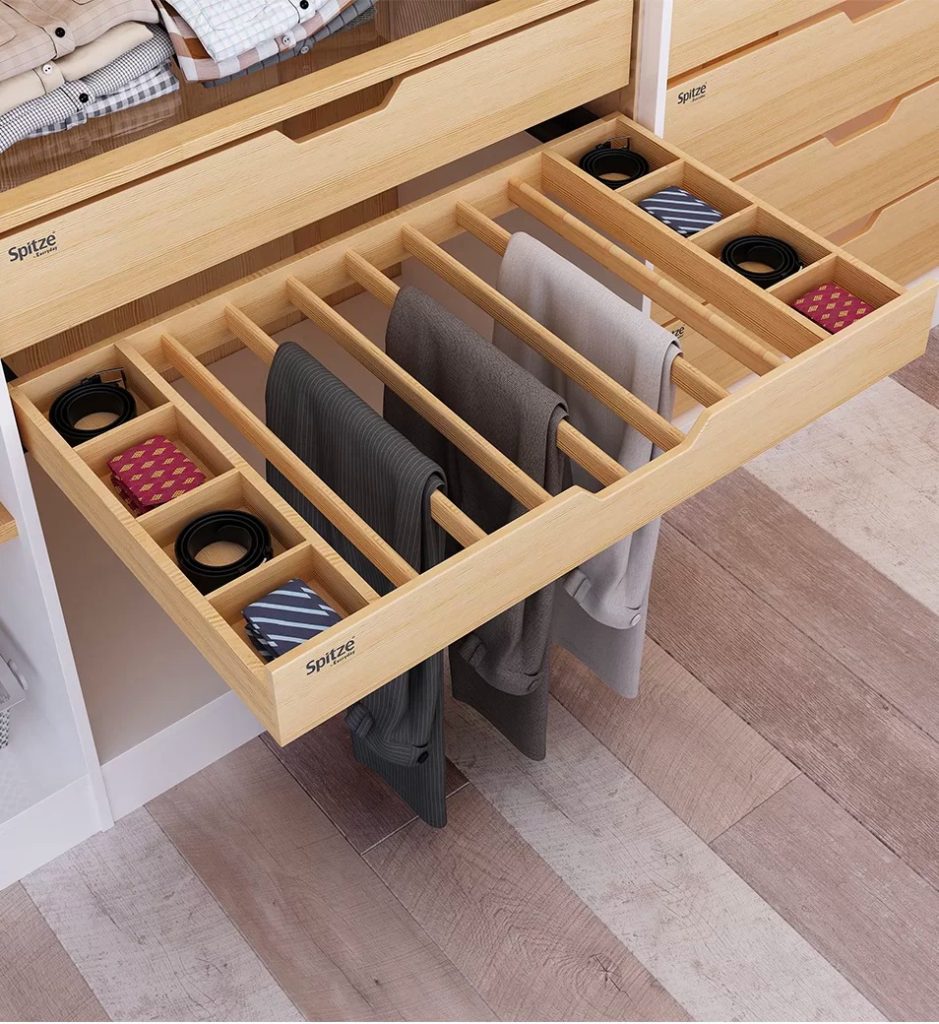 Pull Out Shoe Rack
Forget about bulky shoe-racks. Store your shoes in the wardrobe itself and save vital home-space.
Wall-Mounted Hanger
Utilise Empty Vertical Space on walls to hang heavy clothing items like overcoats, jackets etc.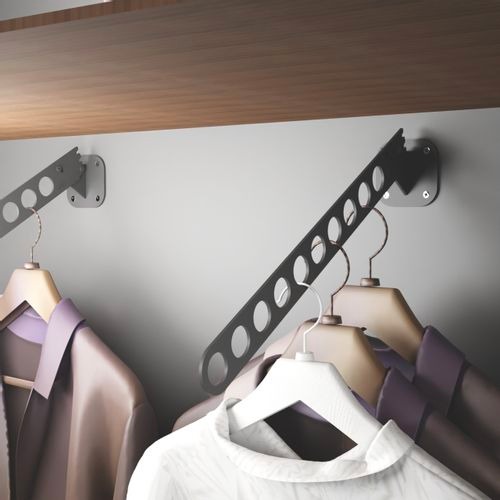 Maximising vertical storage space is also necessary especially if you are following the trend of full-height wardrobes. Make shelves and compartments, install rails and use, organiser and divider storage boxes to sort out different types of items keeping your wardrobe organised.
Consider having a capsule wardrobe, which is a small collection of clothes and accessories that you wear frequently. This will help you reduce clutter and save space in your closet. You can store your extra clothing in another place, such as a dresser, a nearby closet, or a storage room.
Lastly, you can use sliding drawers, folding mirrors that are pulled down, the sitting bench near bed as another storage location, sliding doors, built-in dressers inside wardrobes etc.
Accessibility
Accessibility is an important factor when choosing a master bedroom wardrobe. Your wardrobe should be easy to access and use, so make sure you choose a design that suits your needs. If you have limited mobility, for example, you might want sliding doors for your wardrobe or a lower hanging rail for easy access.
Correct visualisation of bedroom space is necessary to ensure that everything remains accessible and shutters/doors can be comfortably opened. After all, you deserve a livable bedroom space with easy accessibility and ergonomics.
Budget
Finally, your budget is the most crucial aspect when choosing a master bedroom wardrobe. Wardrobes can range from a several thousands to lakhs, depending on the size, style, and quality. Make sure you set a budget that you are comfortable with and choose a wardrobe that offers good value for money. Remember that a high-quality bedroom wardrobe will last for many years and is a good investment in the long run even if it means shelling out a few extra bucks.
Conclusion
In conclusion, choosing the right bedroom wardrobe is an important decision that requires careful consideration. Factors such as size, capacity, style, design, materials and its quality, play a significant role, and this is where we come to your aid.
At NativeSutra our attention to detail, experience in interior decor and visionary designing help address such issues to, to provide you with end-to-end interior designing solutions. We believe in assisting our clients through every step of the way from finding vendors for wardrobe material to design conceptualisation to on-time completion.
With us, you can find a bedroom wardrobe that will provide you with the style and storage you need while also enhancing the overall look and feel of your bedroom. Visit our website to book a free consultation call with our experts and transform your living space today!